CARBONTRIKES started 2004 by Lars Viebke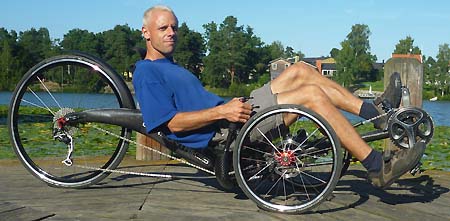 Lars Viebke has built and explored composite construction since the age of 12. He built his first recumbent cycle as a teenager. Lars has since built several recumbent bikes for touring, with which he explored much of Europe. He bikes daily to and from work. Lars has studied at The Royal Institute of Technology (KTH) in Stockholm, Sweden. He graduated from there with a Master of Science specializing in composites, lightweight construction. He also has a Bachelor of Science in Product Development and finally a Bachelor of Science in Mechatronics.
On CARBONTRIKES Lars is CEO, designer, product developer and production leader.
Artur Adson is an industrial designer speciallized in carbon fiber products. He is not coming the traditional way from the biking world but instead motor racing with experience from leading development of electric formula-type cars as well as extremely light carbon fiber motorcycles. But as CARBONTRIKES is more technical advanced than any other bike or trike on the market, more like a formula-one car, Artur feels like home.
On CARBONTRIKES he is designer and product developer responsable for 3D-CAD and CNC as well as working with production.
Mårten Danielsson has an extensive experience in bicycle competition. Thanks to this he has a great insight into the importance of the cycle's low weight and good aerodynamics. His search for the most advantageous bike built for speed, has over time lead him to different types of two wheeled recumbents and trikes. From his former profession as a technology and motor journalist, he has brought with him both knowledge and fresh ideas to CARBONTRIKES. Mårten still bikes over 10 000 km or 6200 miles/year. Mårten has a degree in media and design.
On CARBONTRIKES he manages sales and marketing.

CARBONTRIKES goal is to create light, fast and user friendly products that are market leaders. To succeed, we have a large network of top specialists and researchers to assist us with their knowledge. CARBONTRIKES also has frequent exchanges with some of the leading manufacturers of carbon products in the world. Although we are a small company, we have the unique expertise required to create a world-leading carbon fiber trike.